List of products by brand TOF Paris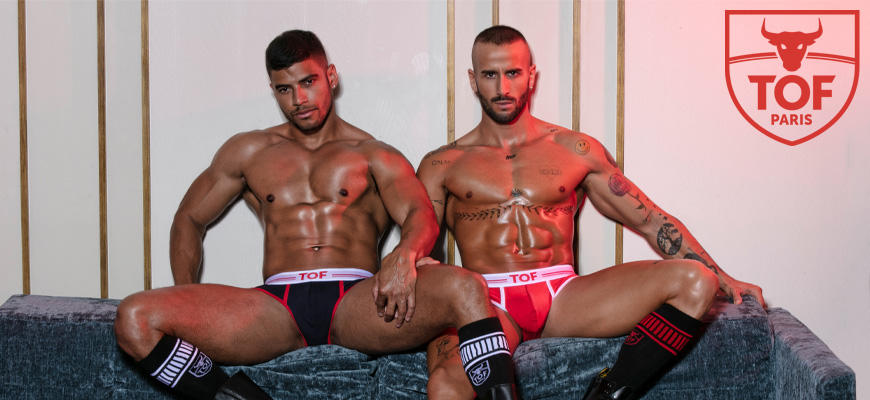 The TOF mens sexy clothing brand Paris (for Trends Of Friends) is created by Sylvain in Paris in 2014 with the desire to bring a touch to the men's wardrobe originality, far from the standards and uniformity imposed by world's leading men's ready-to-wear brands. Love, friendship, joie de vivre, the desire to please and seduce are the man's constant quest. TOF Paris offers collections resolutely modern for a laid-back and urban style, inspired by trends to give new life to the classics.


Designed and manufactured in France

Since originally, TOF Paris has chosen to work with companies renowned in the world of clothing for their know-how. Has at a time when most brands are manufacturing in Turkey, China, in Pakistan or Portugal, TOF Paris produces clothing in France creator at affordable prices.


The bet of comfort and quality

Grace choice of quality raw materials, the brand's clothing combine design and comfort. Each model is tested to check that its qualities are maintained over time. Selected for their quality and durability, most fabrics are made in France.


Well-stocked collections

- Underwear Collection: Boxer and tank top, sports or sexy fashion, in colour, in black or white, TOF underwear is worn in evening with a suit jacket or in sexy underwear.

- Hot Collection: Mostly made with faux-leather, the range sexy reappropriates the codes of fetish clothing. Boxers, pants, T-shirts, and tank tops are becoming accessible to as many people as possible.

- Casual Collection: On the street, at the gym or on the beach... In the city or on holiday! 100% or very little cotton jersey materials elasthanne, or viscose.

- Sportswear Collection: At the gym or on holiday, comfortable tank tops, shorts and swimsuits.


A dream, a passion, a will ...

The story Sylvain is unremarkable. Born in 1977 in Douala (Cameroon), he is born of a modest family. Inspired by his seamstress mother, he draws and created models for friends and family at the age of 12. Has local festivals, ceremonies and weddings, orders are pouring in.

But material necessities push him to to study law. A hard worker, he gets a DEA in business law, and teaches the law of obligations and criminal proceedings at Douala University.

It was in 2005 that he decides to go to France to realize his childhood dream: be a fashion designer. He then took courses in modeling and ESMOD styling.

Despite the doubts of his friends and the guard of his family, he perseveres, overcomes obstacles and ends up to create TOF Paris in 2014.

His first collection aroused a lot of enthusiasm and immediately met with the support of the public.